Beat the Heat: Get Up on "The" Mountain"
Words and photos by Jason Martin
With record breaking temperature this spring it's time to start beating the heat. With snow melting quick and June rolling by before your eyes, your brain must be scheming where to go for the next trip. The Okanagan should be the answer. Not usually the first thought when trying to escape from the heat but when you head to the northern end of the valley and head up the road to Silver Star Mountain Resort you'll be in for a trip to remember!
A short 25min drive up the mountain from the City of Vernon you'll drive into the unique village of Silver Star. The quaint village shows off every colour imaginable and has a character that you'll never forget. At Silver Star you'll want to roll up with your bike rack full of your quiver of bikes, whether you prefer to be lifted to the top for non-stop, arm burning DH laps or use your own strength and pedal your way there are trails for all types and levels of riders. If you have the full quiver of bikes, you can even pull out the skinny tires, give your buddy your keys and get a great hill climb in on your way up the hill or tour around the valley after your day of riding checking out the lakes, wineries and other attractions.
If downhill is your thing you will be yipping and yaying before you even get on the chairlift. With the mid-mountain village you get your first taste of what Silver Star has to offer on your way down Blast Off to the chairlift. Smooth, hooking berms take you all the way down to the bottom and will leave you vibrating in excitement of what else is to come on your next laps. From here on out, you'll be eager to try every trail there is, but I warn you this is no easy accomplishment in a single day. The mountain offers a great progressive trail network providing flow and tech trails for all abilities. Starting with Challenger, a purpose built green trail (which is really fun for experienced riders as well!) there is every step of the way to progress through to Walk the Line which is a "pro line" jump trail.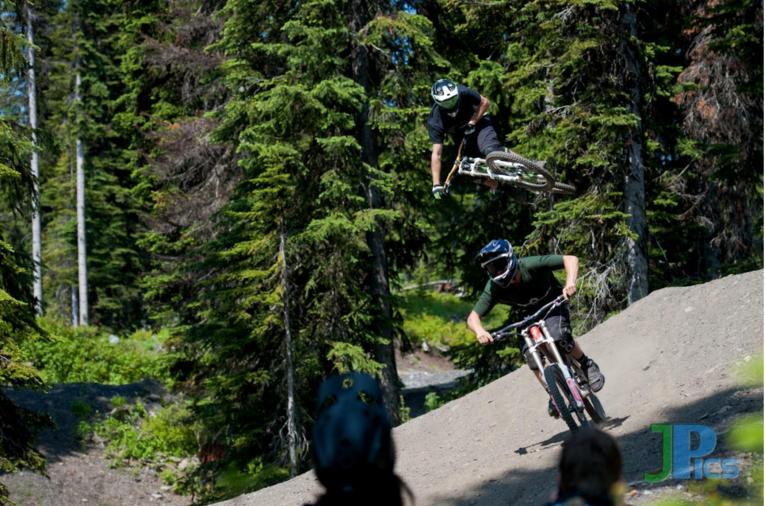 For those of you who are looking to earn your way around the mountain, Silver Star offers a professional developed and maintained cross-country network of trails. There is a wide range in trail types, distances and vertical. The knoll network is based around the main housing development and gives all kinds of riding. Whether it's old school techy trails or new flow style trails you'll be more than satisfied finding your way around 20Km of trails just out of the village. Are you looking to feel like you've climbed a mountain and gotten to the top to be rewarded with a great down? Then make your way across the mountain and head up Silver Shack to contour your way around the mountain and eventually access the top for some great views of the Monashee Mountains and overlooking the lakes of the Okanagan.
From here it's all downhill back to the village via Snake Pit in between the other downhill/chairlift access trails and you'll have a downhill suited to your all-mountain bike. Winding back and forth down the mountain, every contour of the terrain is worked to ensure you get all the reward you earned on your way up. If you're looking for a teaser of what the trail crew is up these days, you can check out the first phase of the newest XC trail Beowulf. Intended to become Silver Star's "epic" trail that will loop into the depths of Putnam creek and back, it currently sends you out to a lookout at Alder Point and a little further before turning you around to head back towards the village. When it's complete it will be approximately a 35Km loop that takes you on a ride through a variety of forests from near treeline down into a deep dark cedar/hemlock forest that feels more like the coast than the Okanagan.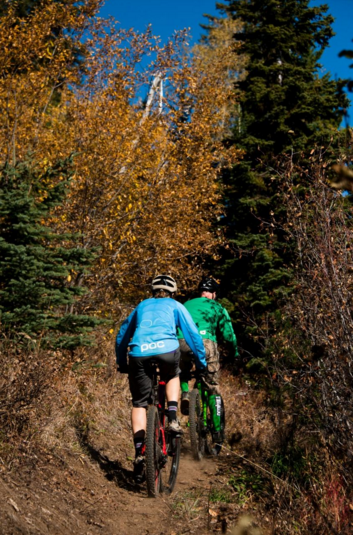 Are you still deciding if you should check out Silver Star? Are you thinking about the rest of the logistics of going away for the weekend? Debating sleeping in your truck, tent or under a proper roof? You have all those options with great access to the trails for all of them. Camping is cheap! $15/tent with access to showers and trailer hook-ups are only $30. Wanting a roof over your head, there are all the options from basic to premium hotel rooms or more popular is to grab a group of friends and find some killer houses to rent for next to nothing. Getting a house is great as it gives your group somewhere to hangout, wrench on bikes and the option to BBQ on the back deck or head to the village and get comfortable at one of the pubs.
By the end of the weekend you'll be unloading you car and caught having daydreams of the Silver Star berms, flashbacks of the colourful village and ultimately starring at your calendar once again planning how soon you can get back.