Nelson BC: Roots, Rocks, and Beer!
Words: Tucker Braund Photos: Anders Samnoy, Ollie Jones, Thomas Nowaczynski
Nelson and Kaslo BC have a historic flair both for their riding and brewing of beer. Over the last 20 years, it would be hard to say that you haven't seen the high-flying stunts and wild riding Nelson has to offer in a few movies or magazine photos. Today most of the ceiling-high skinnies and ladder bridges are all but history hanging in the upper branches of the trees to remind us of those that forged Nelsons' bike scene onto the world radar.
The trails in Nelson are not perfectly manicured, machine-built "flow" trails people are getting all too familiar with. Instead, they are raw, natural, well-built, and will push you to be a better rider.
With the emergence of four new breweries between Nelson and Kaslo and more than 190 trails to choose from, Nelson is a mountain biking destination to be reckoned with.
Nelson Brewing Company & Mountain Station Trails
Easily accessed from downtown Baker Street by a short drive or pedal, Mountain Station is the local's paradise for riding because of the plethora of trails ranging from Green circle to Double Black Diamond, right out the door. From the parking area, you can start with a single track climb up Raccoon and Badger or you can grunt it up the forest road to your desired vertical but either way, you are there for the awesome descents to come. Most people start with Eli Sim a blue square trail that incorporates almost everything that Nelson trails are, roots, rocks, techy bits, smooth corners, and of course a few built stunts to keep you honest. After that, you can make a choice whether you are headed back to descend the other blue trails, or going to the top of the Station to tame the more aggressive beasts that are The Vein, or Space Junk. Either way from the parking area at Mountain Station it's an all downhill ride to the Nelson Brewing Company's brand new tasting room where you can do a flight, or fill your growler for later, or take a brewery tour on Friday evenings and Saturday mornings to see what the certified organic brewing process is all about.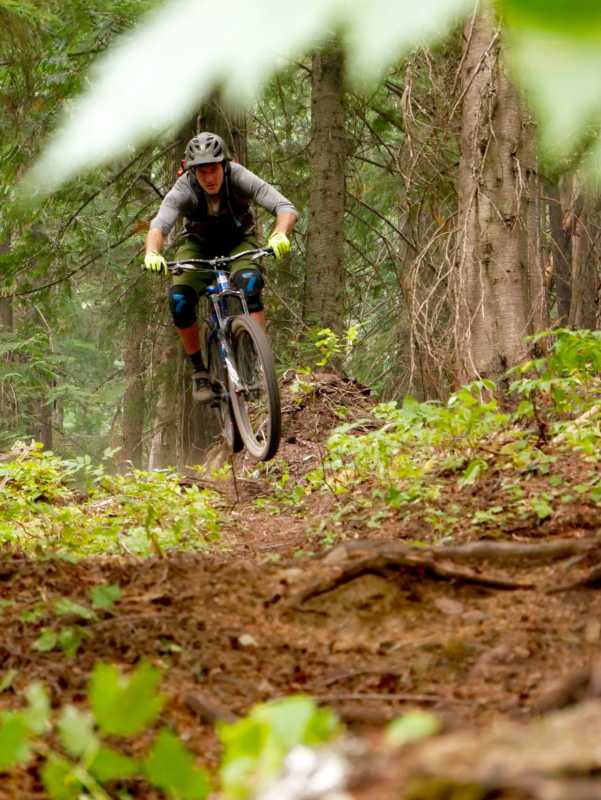 Morning Mountain Trails & Backroads Brewing Co.
Morning Mountain has some classic descents but with lots of user on the new Bottoms Up and Upper Bottomswhich can still be ridden downhill for an awesome beginner ride. You can use these trails for a smooth flowy ascent to Giveout Forest Service Road where you can access Placenta, Bedframe, Illuminati, and the new berm filled, jump trails, Turnstyles, and Lefty that truly rival any other jump trail in BC. If you are looking for a little bit more green circle action you can continue down Fairly High, a new machine built traverse across towards Gold Creek, which will eventually connect to Cottonwood Lake as part of the Trans Canada Trail. Pairing nicely with a ride at Morning Mountain is the Backroads Brewing Co, Nelsons newest brewery located on Baker Street: sit on their patio or at their family-style bar.
Svoboda Provincial Park & Torchlight Brewing
If you know the name Mark Holt then you know the guy who has built incredible trails around Nelson. The Svoboda zone holds one of the best Holt creations called Paper Bag, a technical granite rock slab trail that makes you work for almost every feature. This trail was truly ahead of the times, where the dropper seat post pays its dividends every time you are forced to climb to another rollercoaster rock slab. Paper Bag may sound exhausting but at the bottom, you will be asking for more, if you haven't found yourself swimming in Kootenay Lake already. Pedal back into town on the Nelson-Salmo Great Northern Trail and stop in at Torch Light Brewing for a wide range of delicious beers.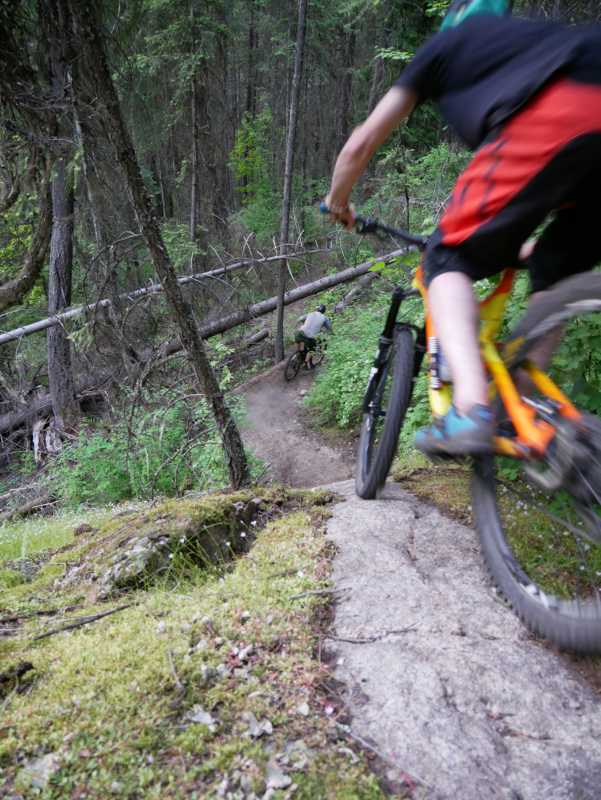 Kokanee Creek Park & Mike's Place
Shorter trails that you can do laps on easily is the theme at Kokanee Creek or the "North Shore" as locals call it. A short 25 minute or less pedal up a green single track or the Kokanee Creek FSR will have you on top of more granite slabs at Morning Sickness, Ledges, and the loamy goodness of Nooner.
Back in town, it's time to sit down in Mike's Place Pub in the historic Hume Hotel where you can enjoy incredible food, local live music and fresh micro-brewed beer.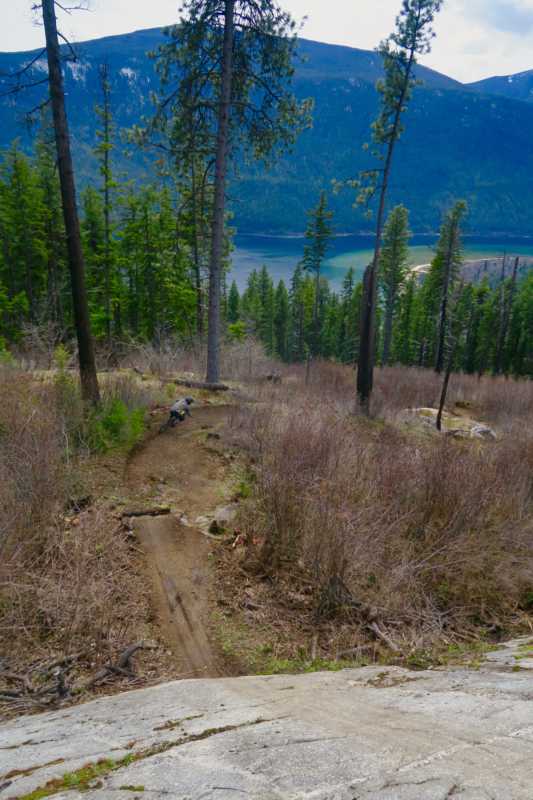 Kaslo Trails & Angry Hen Brewing
Kaslo is slowly making its mark on the Kootenay regions' mountain bike scene with new trails popping up every summer. Trails like The Monster, a gnarly but epic descent from the Buchannan lookout have been around for a few years now but new trails and loops are the ones attracting events like the Single Track 6 cross country stage race. Follow the route of the racers on stage 5 for a long xc ride and then stop in at the brand-new Angry Hen Brewery in historic downtown Kaslo, overlooking the magical Kootenay Lake!
While in Nelson stop in at one of the local bike shops The Sacred Ride or Gericks Cycle and grab a copy of the Nelson Roots, Rocks, & Rhythm trail book, 100% of the proceeds go to help maintain the trails around Nelson. You can use Trail Forks but the map book will have more than a few secrets and its loaded with info that the app does not have. That being said, if you do decide to use Trail Forks please contribute to "Trail Karma" to help keep Nelsons trails in fabulous riding condition! Remember, whereever you ride buy a local cycling club membership because those dollars go directly to keeping the trails in great condition, for your next ride.