The future of women's freeride is accelerating at a phenomenal pace. Here in BC, we are graced with access to unlimited riding opportunities and a community of wonderful mentors. With its large range of jumps, loose descents, and desert-like terrain, the Kamloops Bike Ranch located on the Tk'emlúps te Secwépemc territory, set the perfect stage for "Camp Loops" a women's freeride camp in early June.
Camp Loops is the brainchild of Lisa Mason of Women's Freeride Movement who felt compelled to facilitate this camp with hopes of closing the gender gap in professional mountain biking, "I wanted to create a space where women could excel safely while navigating all the obstacles they might encounter when entering professional mountain biking. Financial assistance was provided to those who needed it, further increasing accessibility."
It was a jam-packed 2.5 days of A-list coaches, delicious food, and of course: legendary riding. The event started with an introduction bbq at the host bike shop District Bicycle Company, and a sports psychology talk with Olympian Crispin Lipscomb. While most participants sat around absorbing it all, a select few were taking notes, all attention focused on the psychology portion of improvement. For many, it was humbling to be in the company of world-renowned riders, such as Casey Brown, Georgia Astle, Harriet Burbidge-Smith, Hannah Bergemann and Claire Buchar, some of which were participating in RedBull Formation 2 weeks prior.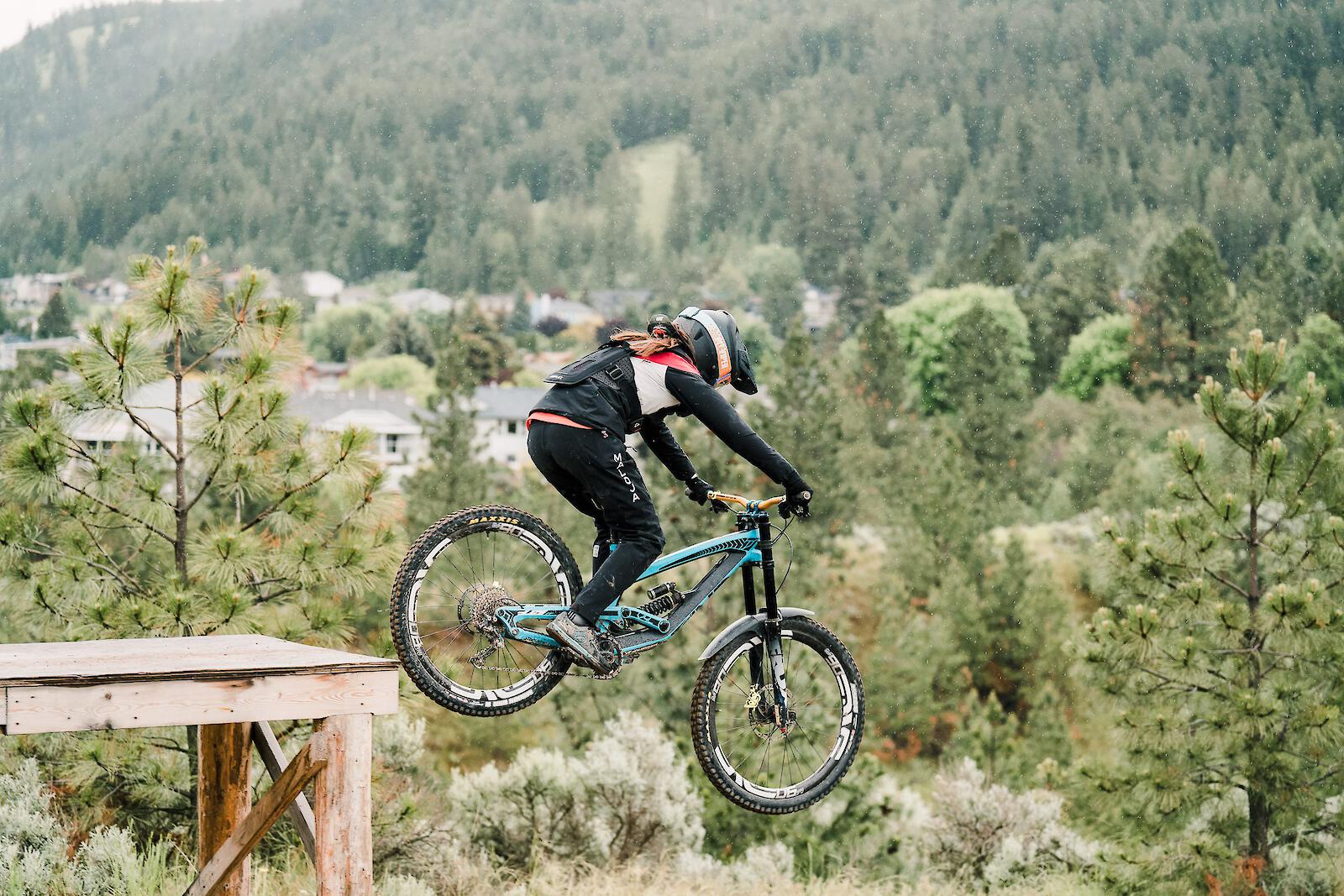 8:30am rolled around the next day and then it was time to ride bikes. The energy was undeniable, everyone was ready to hit the dirt. Participants ranged in age from 8 to 40+, all very capable riders at various stages of progression.
Each group was broken down by ability and took turns sessioning different areas of the diverse park. Some traveled down Wrangler, warming up for the top pro line "Fistful of Dollars," others seemingly defied gravity in the perfectly curated jump park.
As well as the 30+ female riders, there were two additional ladies racing around the bike park capturing all the action: Ronia Nash & Andrea Heath. Sports photography is another area with a large gender gap so it was heartwarming to see this detail.
Of course there were a few men kicking around supporting the gals. A handful of dads hung out to catch the action such as Freeride MTB Hall of Famer, Brett Tippie. Participants were treated to his numerous jokes and encouragement as he tagged along to watch his 13 year old daughter progress.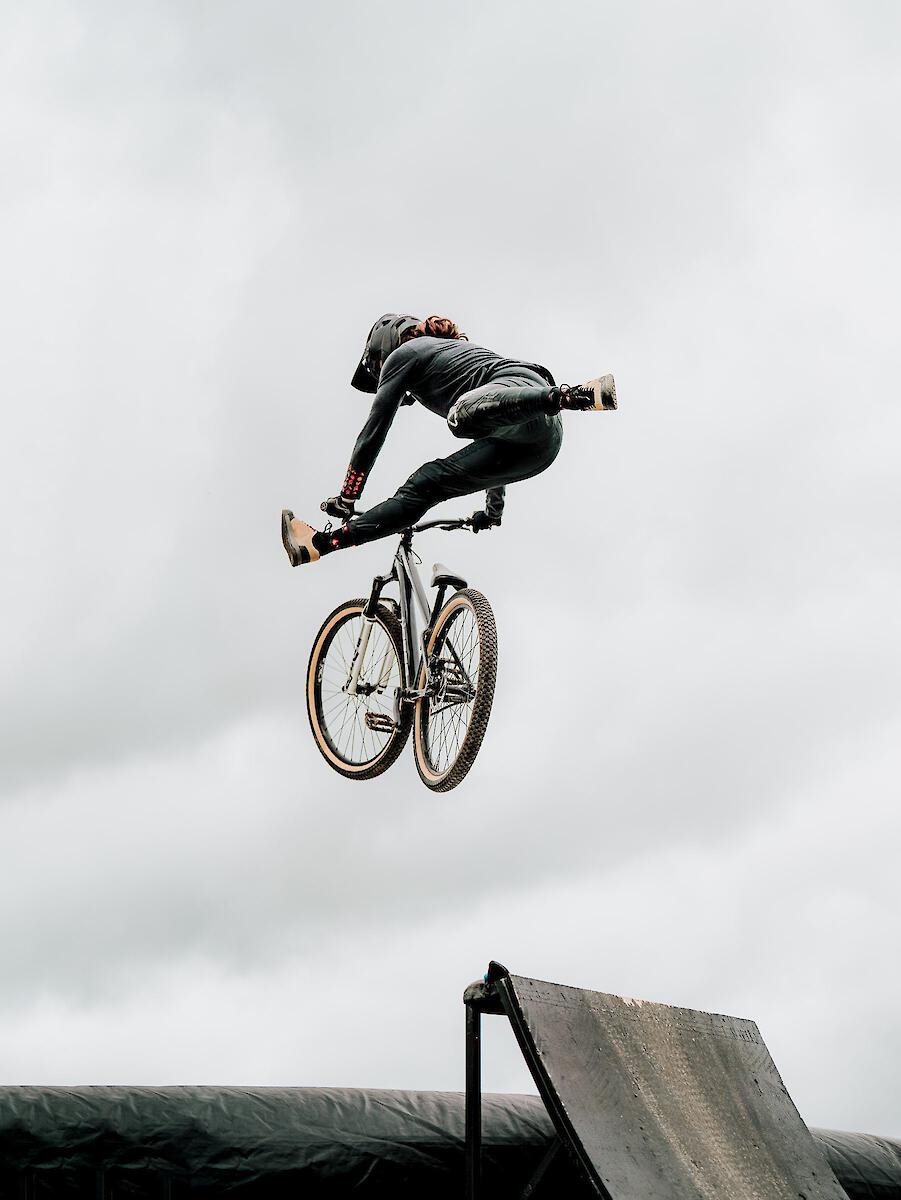 After a delicious lunch at Juniper Park, the afternoon was a bit of an emotional rollercoaster. Most women were pumped to be given the opportunity to spin some tricks onto the safety of the airbag, but some, such as the youngest two participants at 8 & 11, were feeling overwhelmed. Looking at the 6 foot steep ramp onto the airbag and the surrounding group of curious bystanders, I could see where their intimidation stemmed from. Several coaches and participants pulled the girls aside though, affirming that they are accomplished riders and encouraging them to try the airbag. After much contemplation, both girls ended up beating their nerves and flying high onto the airbag. For Gaia, the 11 year old, overcoming that fear wall was just enough to completely turn her day around. She went from feeling disappointed and discouraged to elated.
The final event of the day was at the trampoline park where the ladies were given space to practice more air-awareness. Everyone's inner child came out and the women tore up the trampoline park, trying tricks, and just having a good time bouncing around. Ex-gymnast/sponsored rider Britt Falconer gave tips on backflips, spotting some women through their first backflips.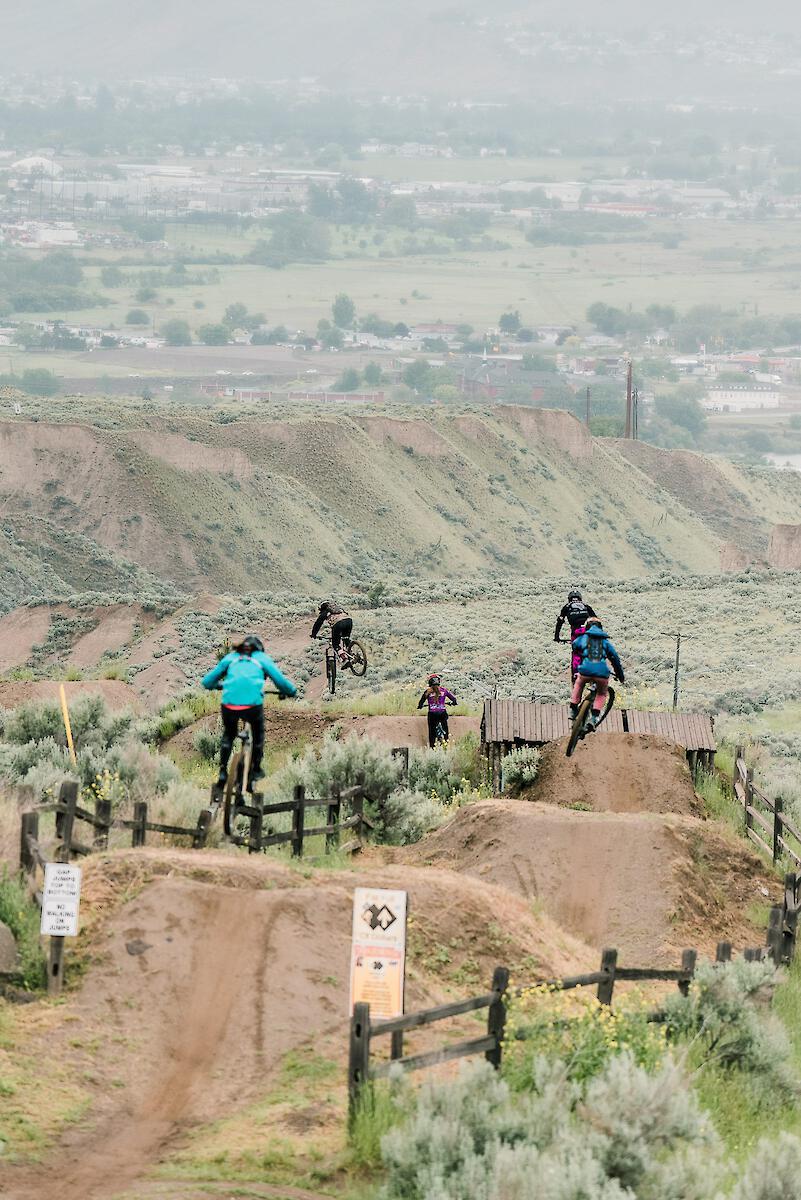 Day two started up much the same with the exception of the weather. The skies threatened to unleash forecasted thunderstorms. Lisa shouted out to the crowd, "if it's too wet we are going to have to stay up top and session the skills area," and before anyone could protest, she finished with, " I don't want to hear any complaining because you can never have too many skills drills."
Luckily, nothing more than a drizzle reached the ground and riding wasn't impacted. Some of the more advanced groups lapped the huge jumps on Fistful of Dollars, dialing in their style and technique. A highlight of the line is the 11 ft/3.3 m roof gap which Harriet Burbidge-Smith flew over with a tuck no hander.
The second day of the airbag was off the charts. After a full day and a half of coaching the women were primed and ready to give it their all. Cheers could be heard from the crowd non-stop over the two hour airbag session. Fistpumps, high fives and hugs were continuously being handed out, and new tricks were constantly being unveiled. Allie, age 8, developed the courage to throw a couple one-handers and no-footers, while other participants like Nelson local Candice Randle, worked up the nerve for backflips, can-cans, and no-handers.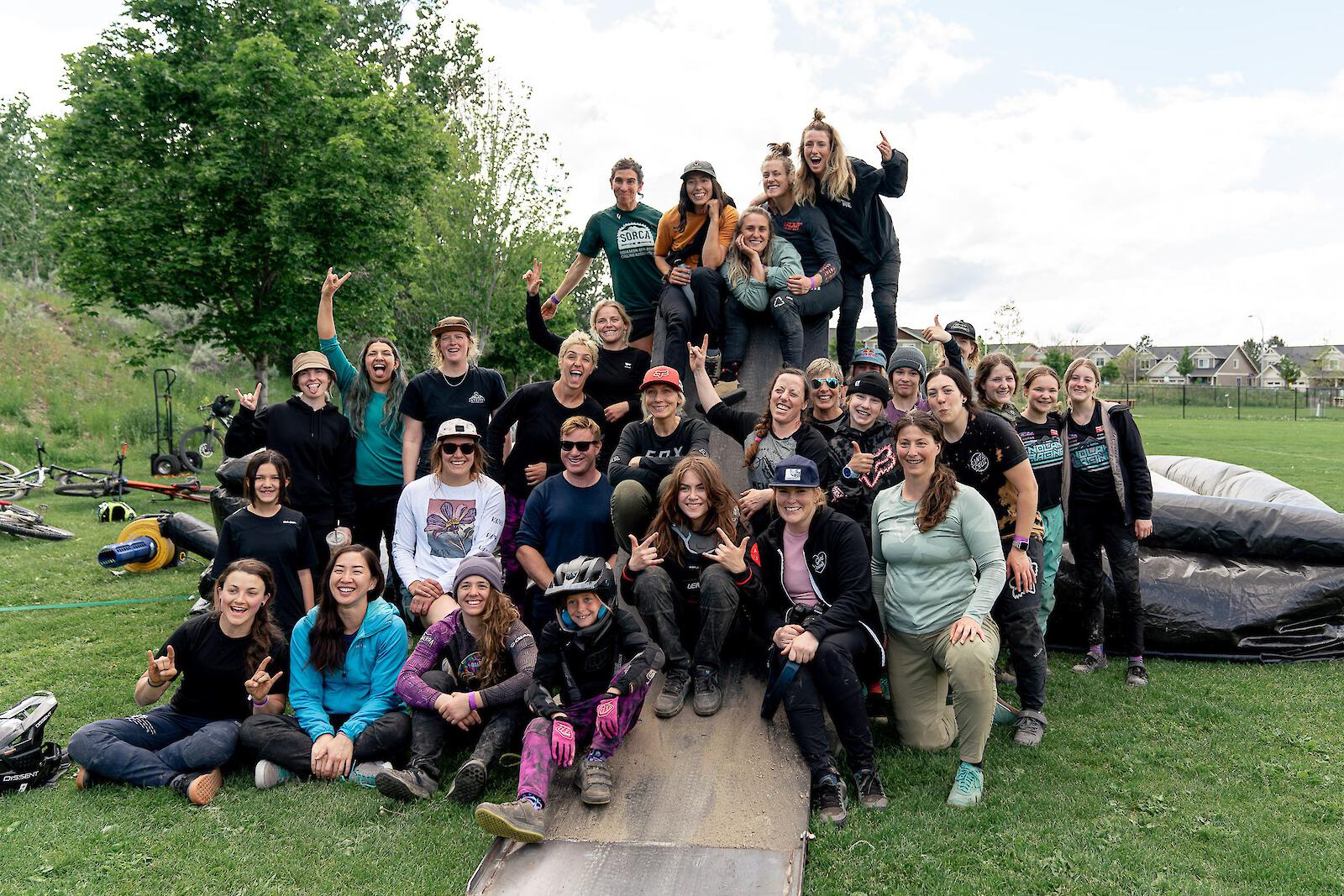 Most of the participants came into this camp wanting to improve their skills. They walked out with confidence, refined competence, and new friendships. When asked if we will be seeing this camp again next year, Lisa's answer was, "Most definitely!"
The WFMBike acknowledges that we are operating on Tk'emlúps te Secwépemc territory, situated within the unceded ancestral lands of the Secwépemc Nation. We honour and respect the people, the territory, and the land that houses our event location.