Riding Squamish with Guestagrammer Cecile Gambin
What I love about riding in Squamish is the diversity of trails and how green and vibrant the forest is. As a rider, I find it fantastic, with the rocks, roots, moss, slabs, trees, jank, off-cambers, and steep hills working to test me physically and technically. For the photographer in me – well, it's eye candy.
I can bring my friends and family members and easily find a trail to suit their needs. I can ride with others or alone and feel challenged yet safe. Whether I'm exploring along the valley floor or alpine, riding Squamish year round is a treat.
Still rockin' the 26" wheels, I am a freelance photographer from North Vancouver. My love for photography began in the days of film but was temporarily sidelined so I could focus on mountain bike racing at the national and international levels. My passion for two wheels, outdoor sports and living life in the fast lane has allowed me to fuse art and speed into my images. I am the Managing Editor and Senior Photographer for Traction eRag, and I also contribute to several mountain biking magazines and publications.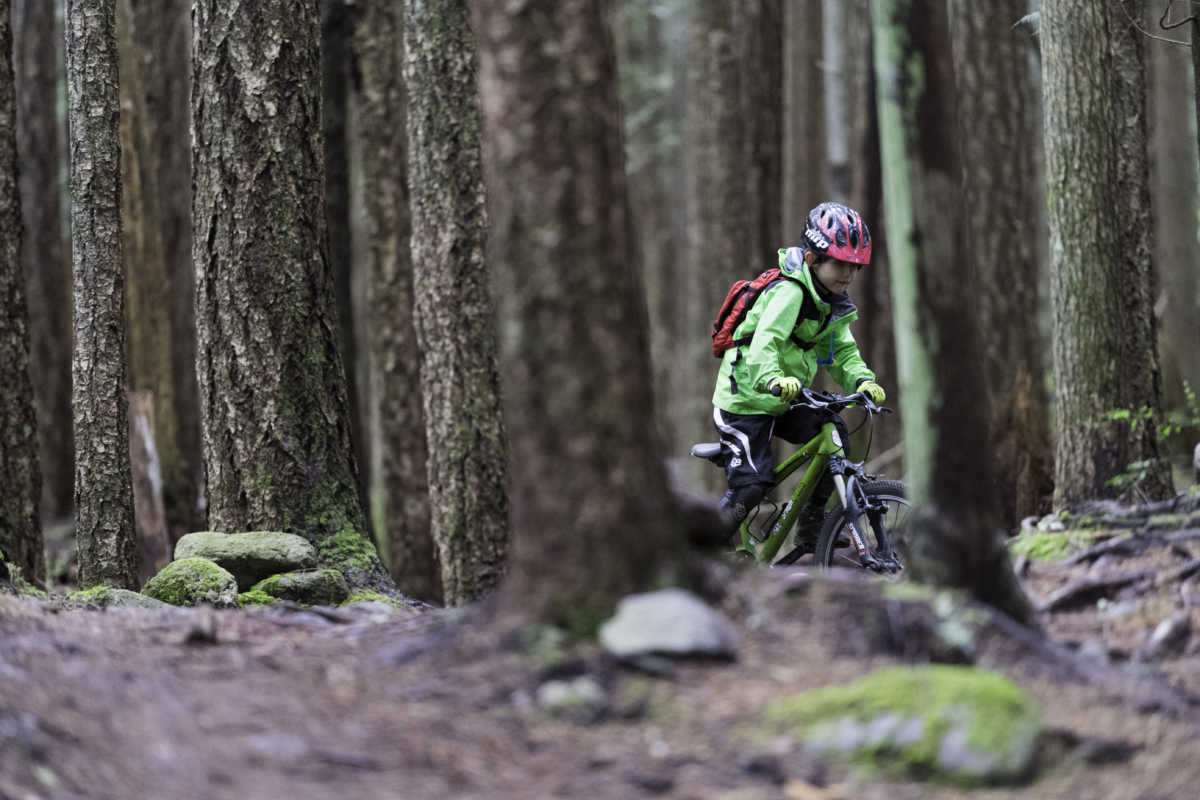 From time to time, I love kicking it into a higher gear and spinning my legs. With no shortage of roots, rocks, and twisty turns, this trail along the valley floor is full of fun. It's also a superb place to take beginners, and young riders will think it's an Ewok Forest!
Trail: Rusty Bucket
Rider: Luc Grant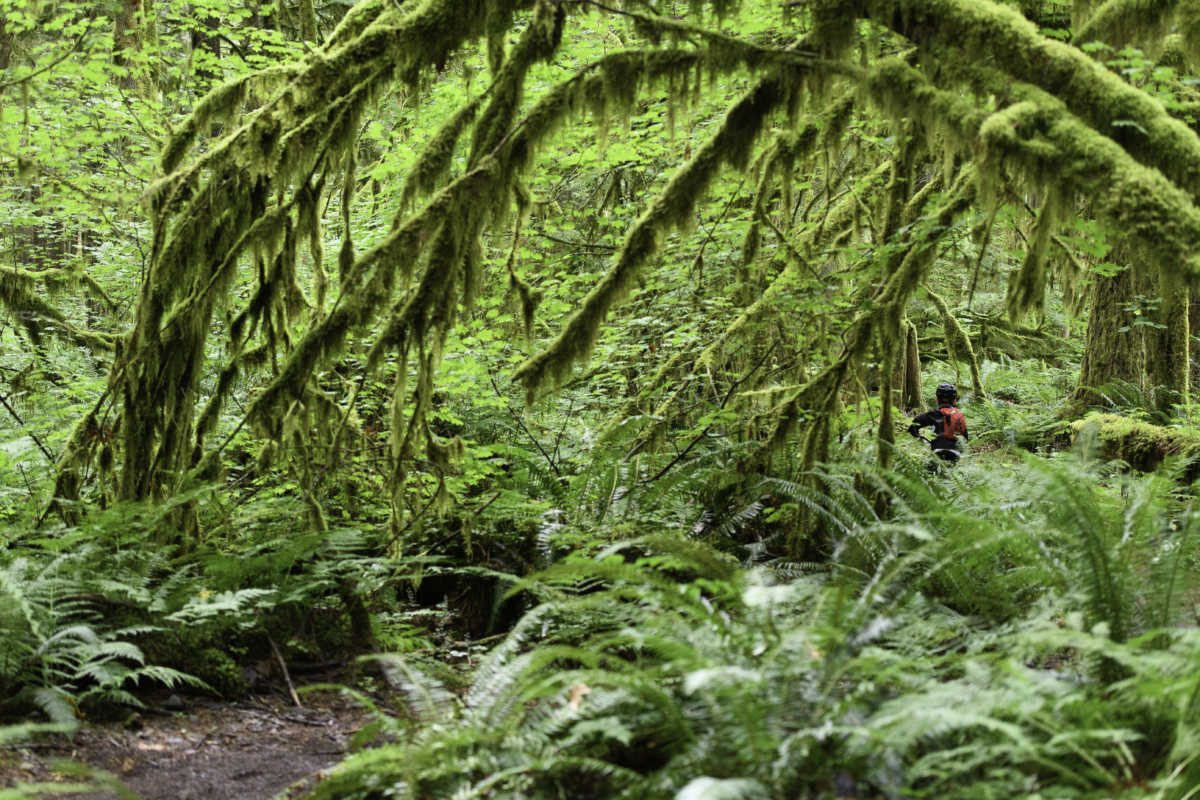 The beauty of this trail goes beyond the flowy single track. It's a cornucopia of moss, old-man's beard, and every shade of green and yellow imaginable. White Rabbit is a flat trail lots with lots of bumps to shake it up. It's my Fairy Forest.
Trail: White Rabbit
Rider: Luc Grant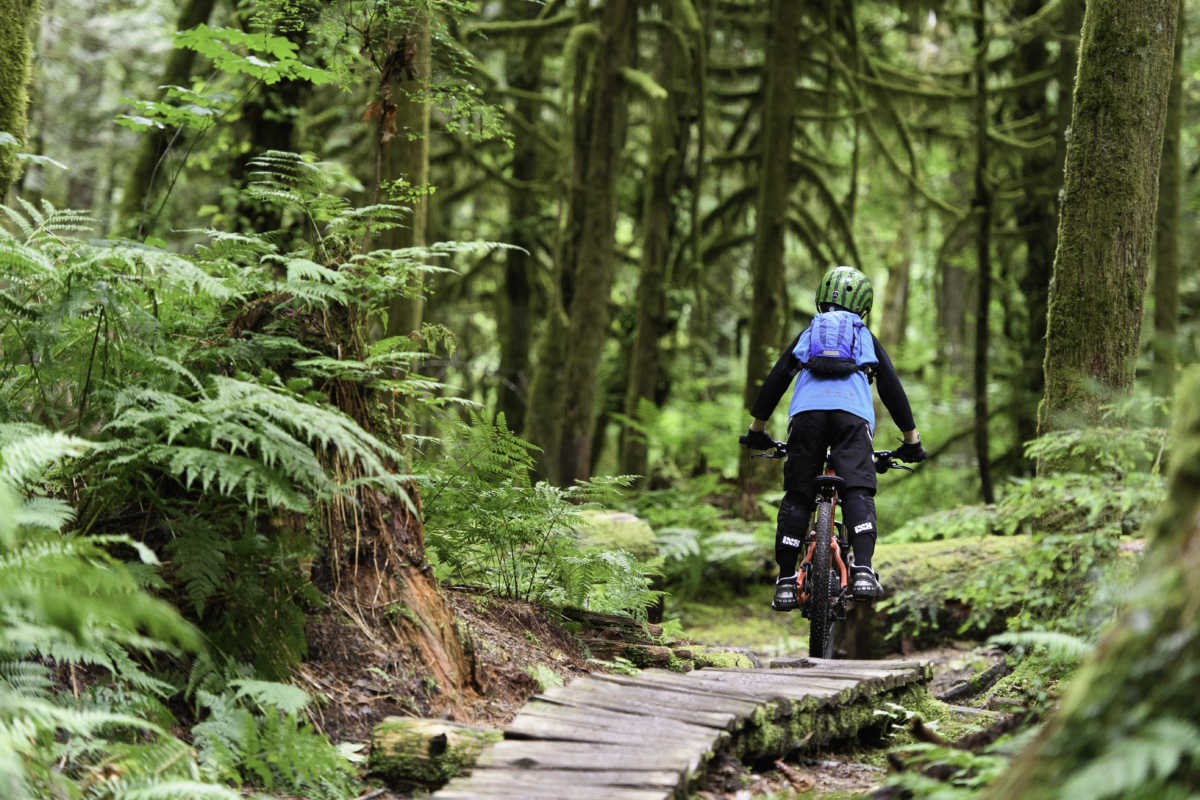 When it's this beautiful, I take the time to slow down and appreciate what this trail has to offer. I like to ride Wonderland from north to south to take advantage of the gradual downhill. Along the way there are bubbling streams, gigantic boulders, and wooden bridges. The trails along the valley floor are some of my favourite ones to photograph.
Trail: Wonderland
Rider: Sebastien Grant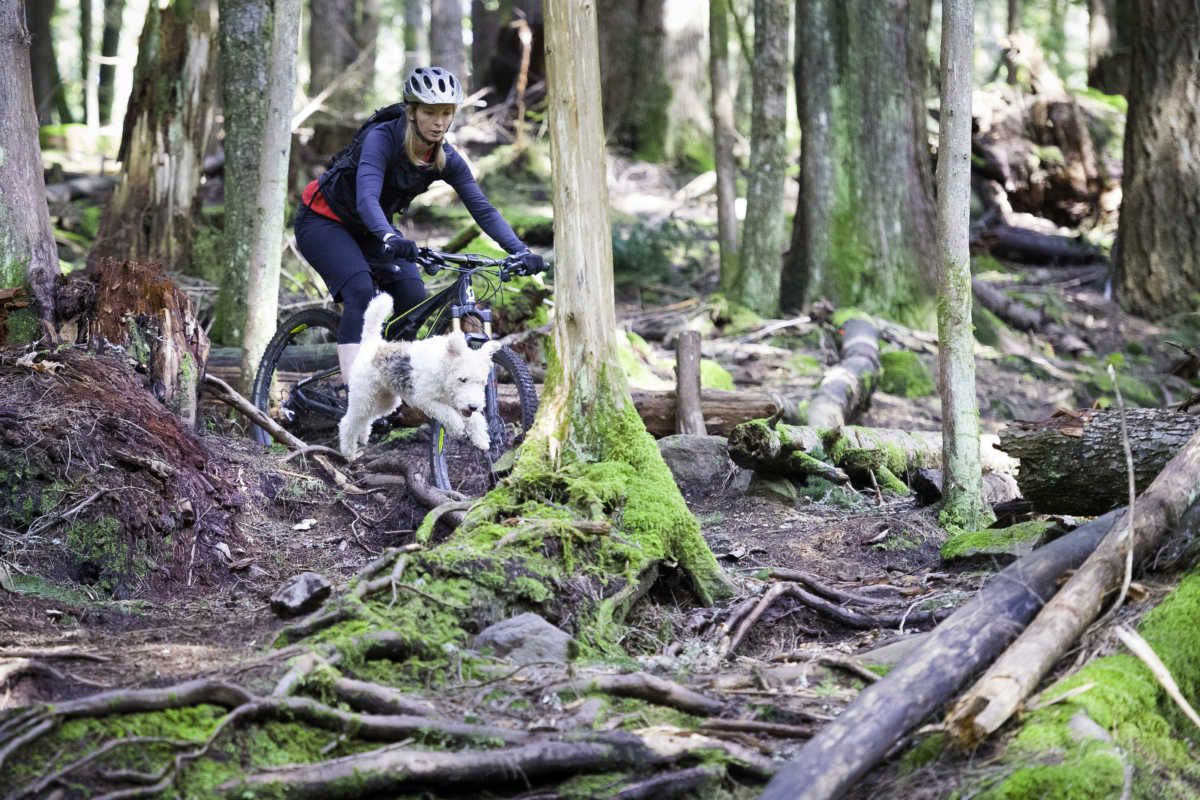 Fit, happy dogs live in Squamish. They enjoy the trails and usually choose the fastest path linking turns and taking hip jumps better than most of us. This is the bottom of Seven Up near the entrance to Coho Park in the Alice Lake and Highlands area. It's a fun, technical single-track trail that can connected with others close-by to make a fun loop.
Trail: Seven Up
Rider: Martha Baldwin with Quin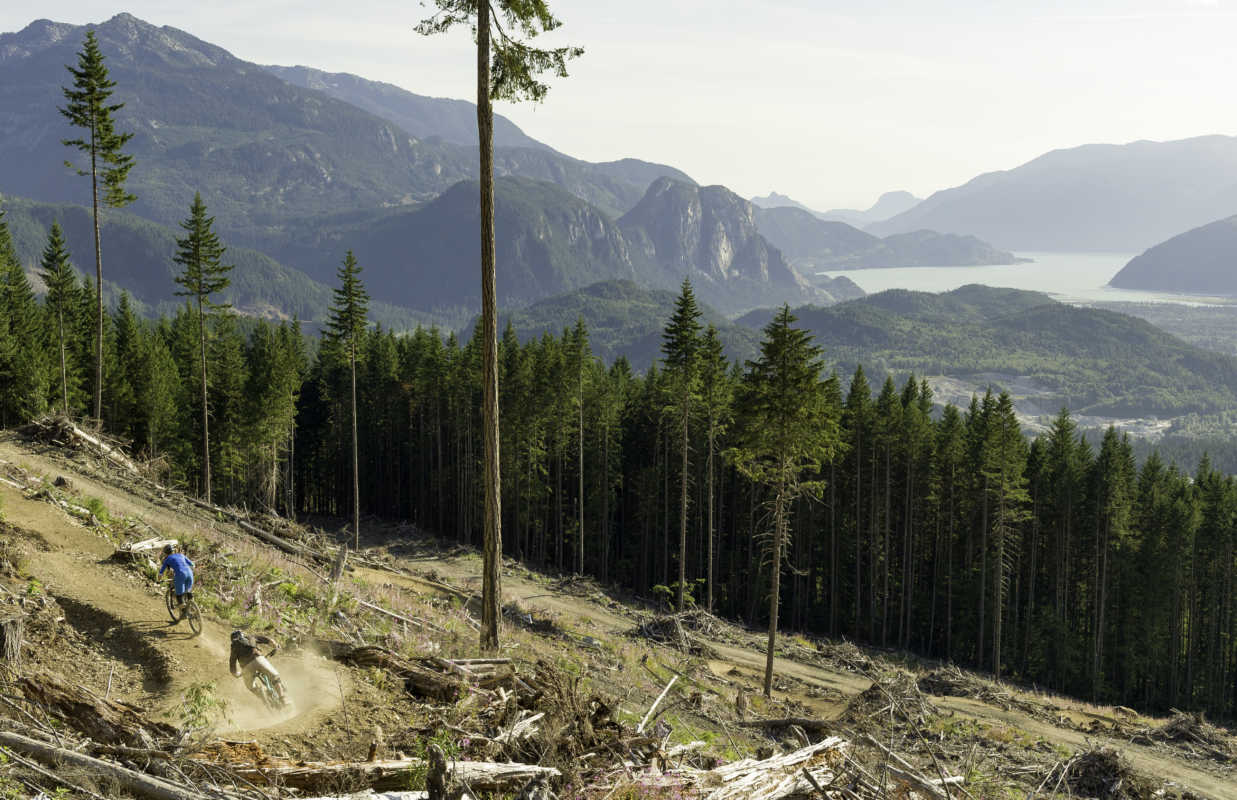 It's one of Squamish newest runs, and it's fun, fast and scenic. This trail has it all: big berms, fast descents, and incredible views of Howe Sound and The Chief.
Trail: Meadows of the Grizzly
Riders: Kristen Courtney, Clement Hobbs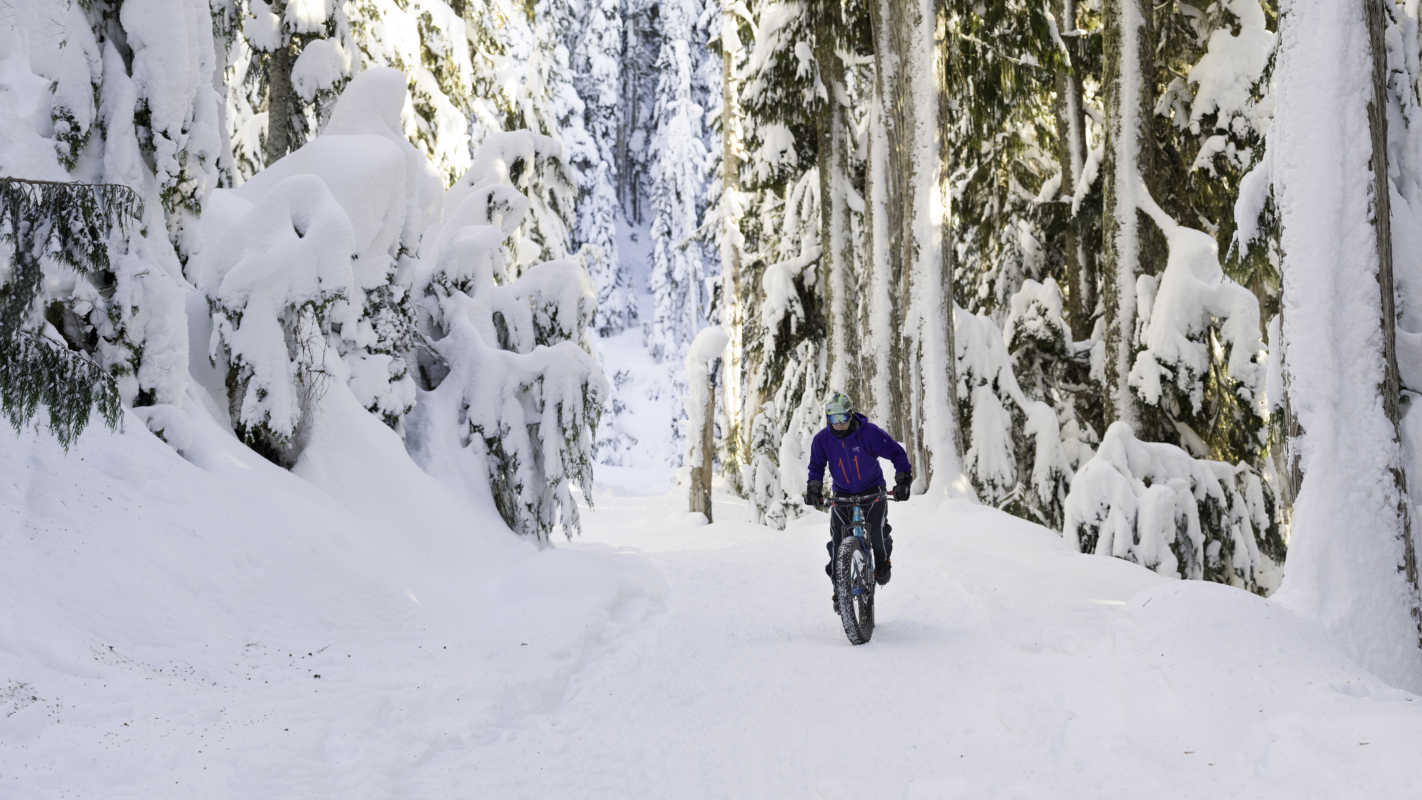 For me, riding in the snow extends the fun factor. When blanketed by crisp, white snow, what's usually a banal ride up a gravel road becomes an awe-inspiring adventure to reach the Lakes, as well as a serious workout. On the flip-side the downhill will leave you with a big grin and smile.
Trail: Access Road to Elfin Lakes
Rider: Rick Meloff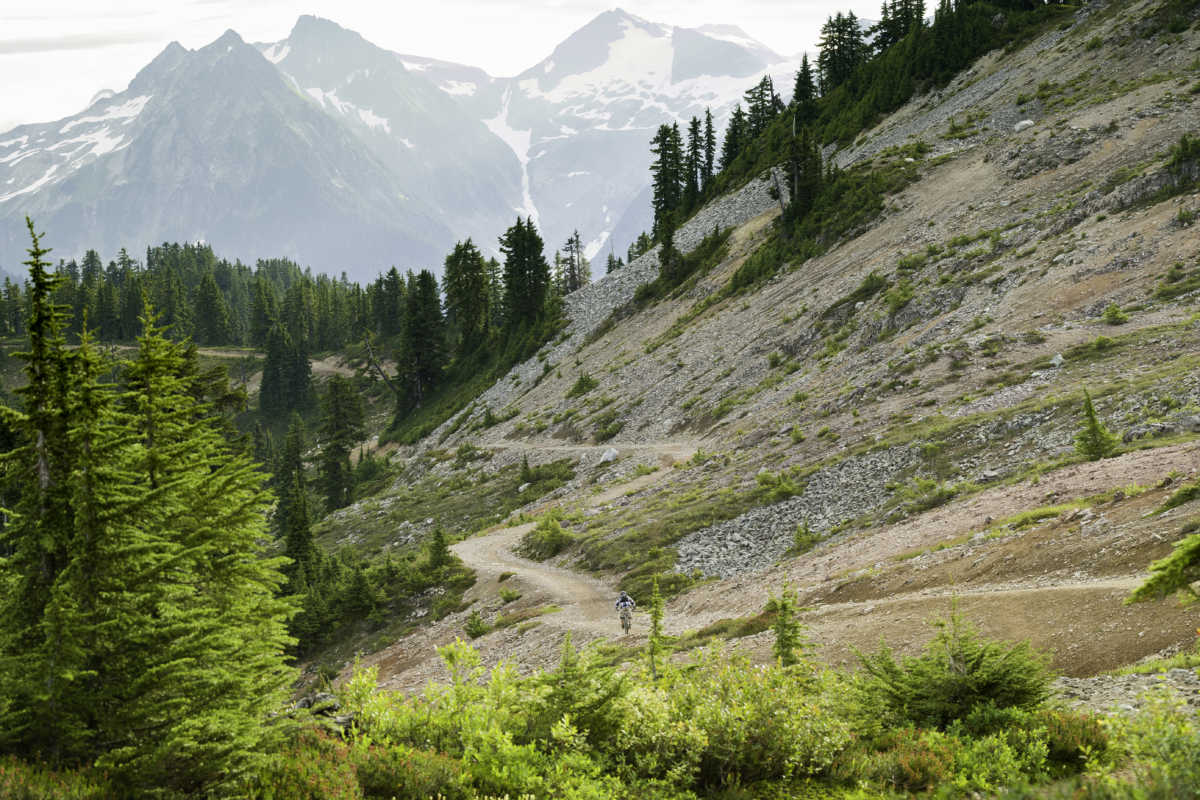 One of my favourite tracks is Elfin Lakes. It's a short ride that feels longer, and the sub-alpine is easily accessible. Surrounded by mountains, it's incredibly peaceful and breathtaking. Every time I'm here, I feel like just a speck in a big place.
Trail: Elfin Lakes
Rider: Clement Hobbs
Think you have what it takes to be our next #mtbBC Guestagrammer? Email us at media@mountainbiking.bc!