Road Trips
Ride Island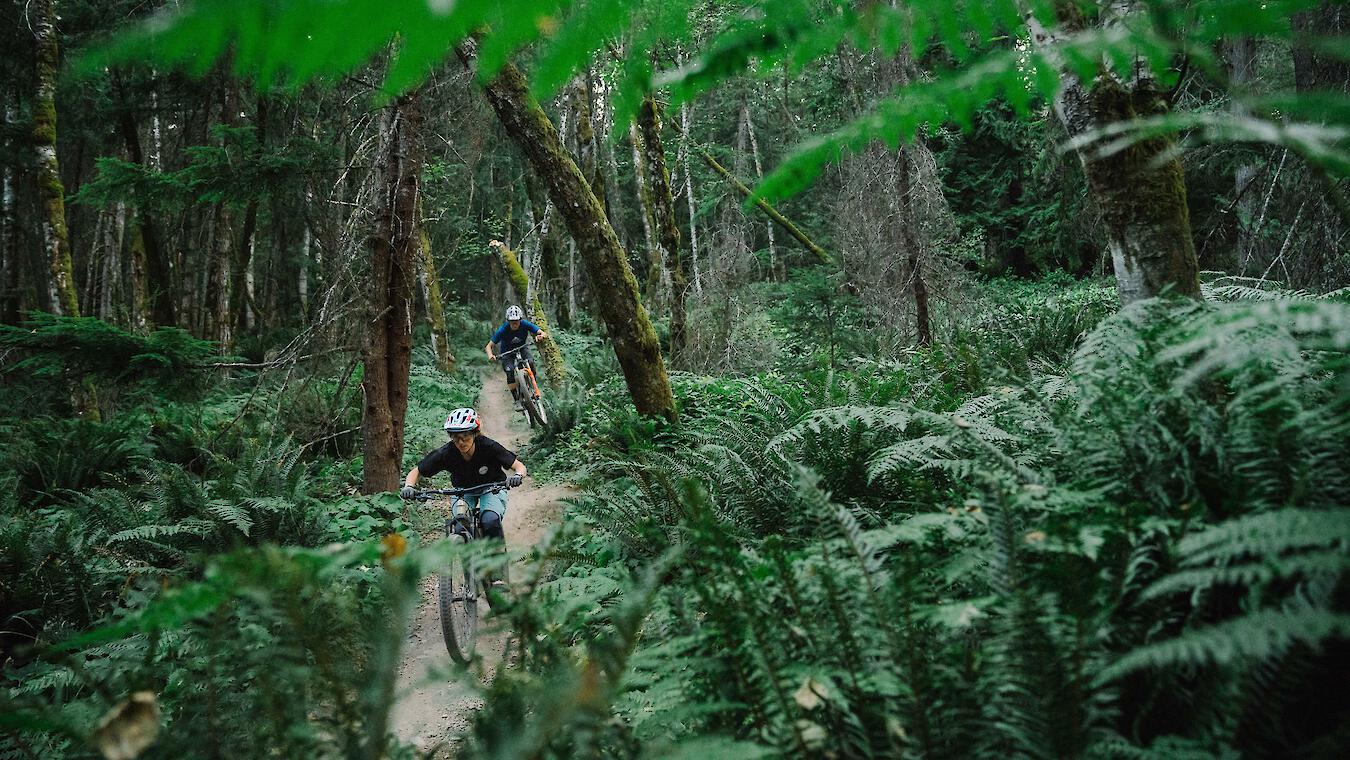 ENJOY ICONIC ISLAND TIME BETWEEN PEDAL STROKES
Ancient stands of temperate rain forest, mild winters, and long stretches of golden, sandy beaches are the hallmarks of Vancouver Island. This is the real West Coast, where the clock ticks a little slower than the rest of Canada. 'Island time' is exuded through happy, laid-back locals who enjoy the bounty of fresh seafood, gorgeous climate, and endless beaches and wilderness at their fingertips. Load your bikes up, hop on the ferry and head to the Island, where six seaside communities, and those happy locals, are ready to show off uncrowded trails and alpine to ocean adventures that rank among the best in the world.
Trip statistics
Riding Destinations

7

Trails to Access

1,000+

Island Time

24/7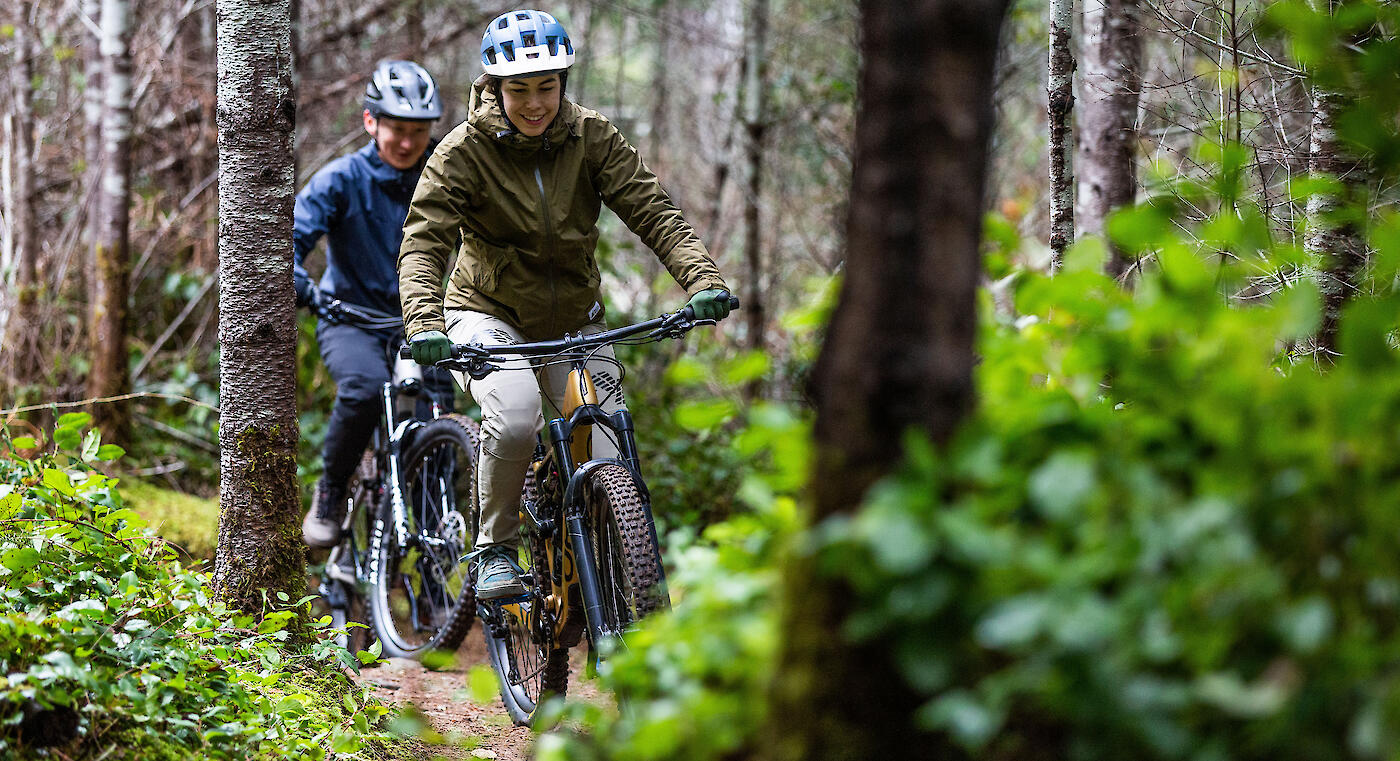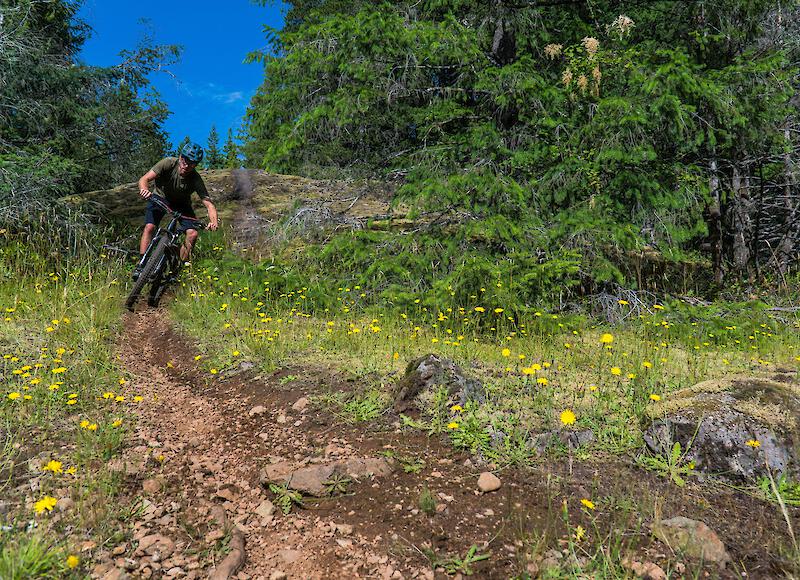 Campbell River
North of 50
Convenient rides on the edge of the Island's wildest wildernes. Campbell River offers a diverse range of XC and DH trails that are only a stone's throw from town. Being the northernmost region in the bike loop, Campbell River is the perfect jump-off point to wilderness excursions to the North Island, or via ferry to the ultra-scenic and bike-friendly Quadra and Cortes Islands which are a short boat ride into the Discovery Passage. Families can enjoy quality time pedalling into the Beaver Lodge Lands while more experienced riders will want to check out the 100+kms of riding available in the Snowden Forest and Pump House. Get ready for technical rides, some leg-burning climbs and friendly locals. A couple of key things you shouldn't forget when riding Campbell River: don't forget to take a glimpse of the magnificent ocean and Coast Mountain views during breaks, second, don't forget to bring your 'eh' game to this awesome network of trails!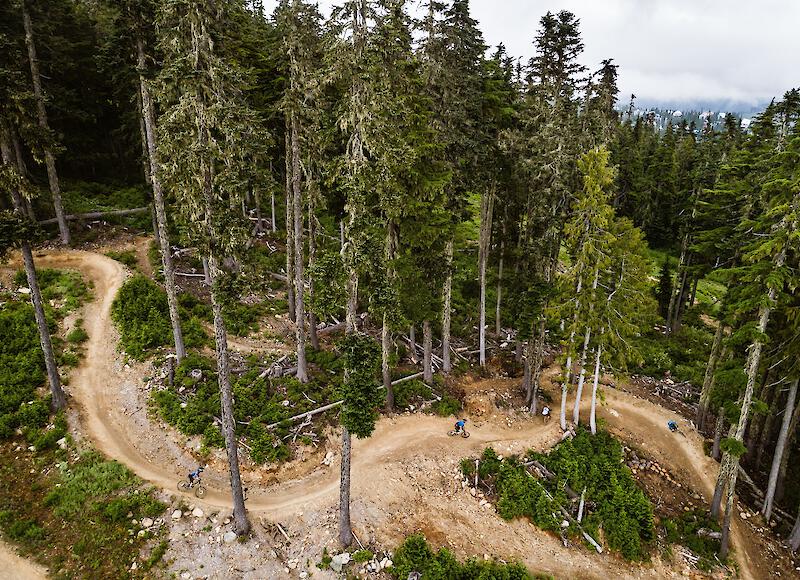 Get Elevated
A phenomenal bike park with one of the best views you will ever see, period. Only 30-minutes from Comox and Courtney, you'll find Mount Washington Alpine Resort - towering 1917 metres above sea level and boasting a 14-trail bike park that delivers a gnarly ride for all levels. Alpine and ocean vistas fall away to big and burly machine-made trails that personify flow and fun. Take a break from uphill grunts and treat yourself to luxurious, lift-serviced riding that maximizes the daring descent. Perfect berms and a generous mix of trails welcome riders from July through September. Epic events, Bike-and-Stay deals and post-ride brews are standard at Mount Washington so grab your posse and head to the Island's alpine today.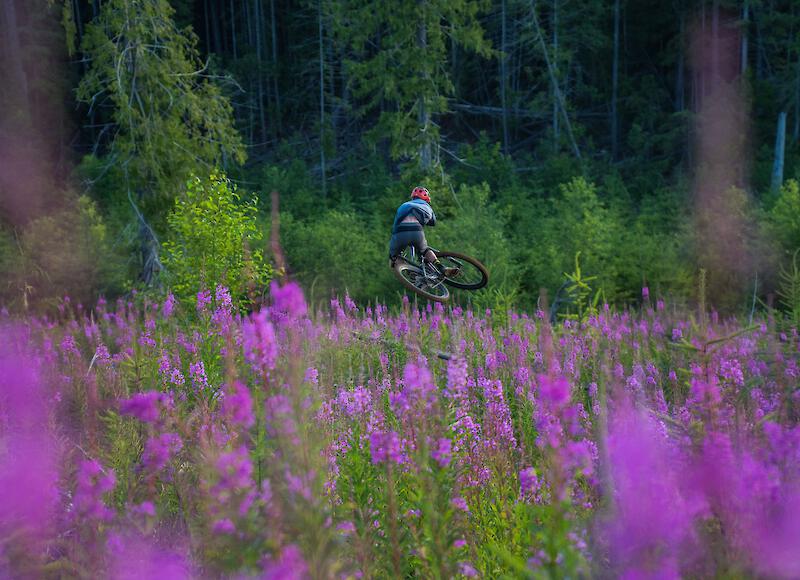 Cumberland
Legendary Lines
The picturesque Village of Cumberland is comfortably nestled beneath the Beaufort Mountains in the scenic Comox Valley. A renowned mountain bike destination with what is arguably the Island's most diverse trail network, Cumberland offers endless single-track and is a host community of the BC Bike Race. Technical XC, grueling climbs, exhilarating downhills and scenic vistas are all part of a regular riding day in Cumberland. Post-ride, head into the village, which is only a few pedal-strokes from the trails. Cumberland is a hub for artisans and provides local-flavour shopping, people-watching and delicious eateries along Dunsmuir Avenue. A craft brewery, thriving music scene, storied history and long-standing pubs frequented by the Village's locals, all add to the uniqueness of this vibrant riding community.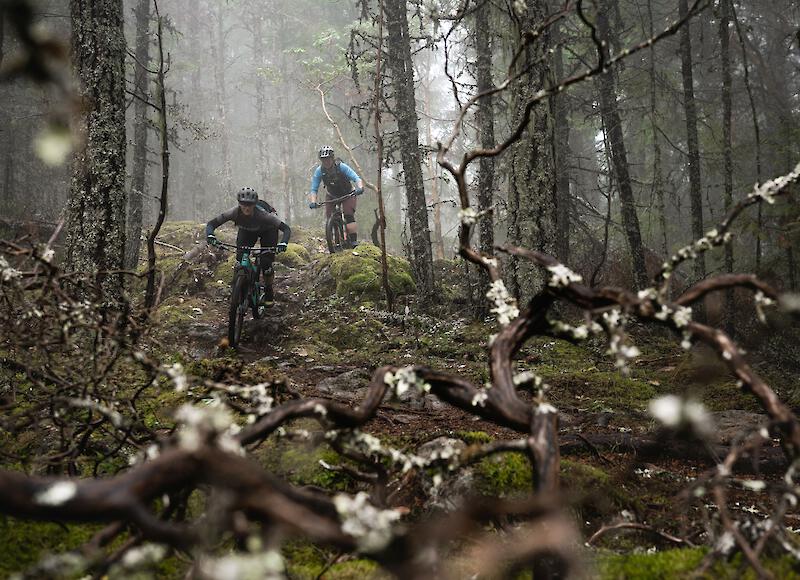 Nanaimo
The Island's Finest Singletrack
Nanaimo, the scenic ferry gateway to the Central and North Island, offers unbelievable riding in a short drive straight off the ferry. Recent trail developments, including the fast and flowy Finer China, plus the must-visit Stevie Smith Bike Park, are proof that this harbour community is committed to catering nothing but good times and progression opportunities to riders of all ages and abilities. Mt. Benson, Doumont and Westwood offer up the thick-forested backdrop to town and are the go-to locations for classic downhill descents and heart-pounding single track. Post-ride, check out the local craft breweries and then head downtown to the Arts District, the Old City Quarter or the beautiful waterfront and visit one of the flavourful cafes or restaurants.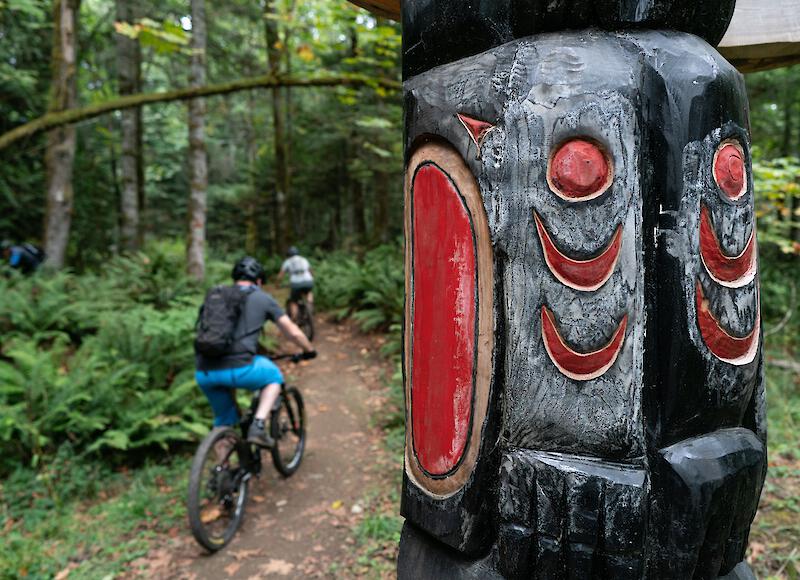 Cowichan
In the Tracks of Champions
Cowichan is 20 minutes south of Nanaimo and has all the trails, fast downhills, flows, climbs, and jumps you could wish for. There is Mt. Prevost; famous across Canada as a destination for past world champions with double-black pro lines; the forest of Mt. Tzouhalem, known locally as Mt. Zoo with 36 km (22 mi) of trails; and the boardwalks, bridges and techy rocky terrain of Maple Mountain that will challenge even the most skilled riders. For those who want to go the distance, there's the rolling 122-km (65-mi) Cowichan Valley Trail that takes you across historic wooden trestles before you cool off in Cowichan Lake. Post-ride, there's plenty to do in Cowichan—grab a beer in a brewhouse, tour a vineyard, hit a farmer's market, swap your pedals for a paddle, or visit the beautiful waterfront village of Cowichan Bay.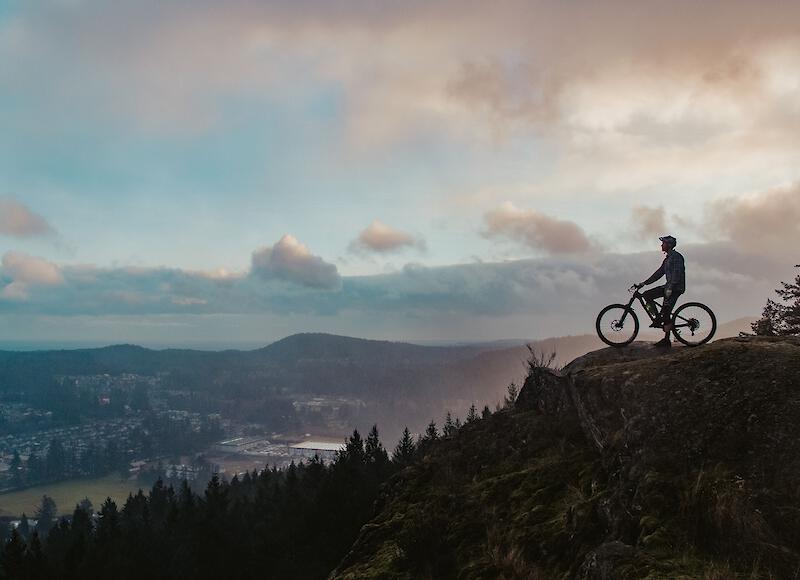 Langford
Located in the South Vancouver Island region, Langford is a city surrounded by nature. Only a few minutes from Downtown Victoria, Langford is central to the South Island riding scene and is home to the new Jordie Lunn Bike Park.
Number of Trails:

14

Highest Elevation:

349 m

Trails:

easy

1

intermediate

1

difficult

10

extra difficult

2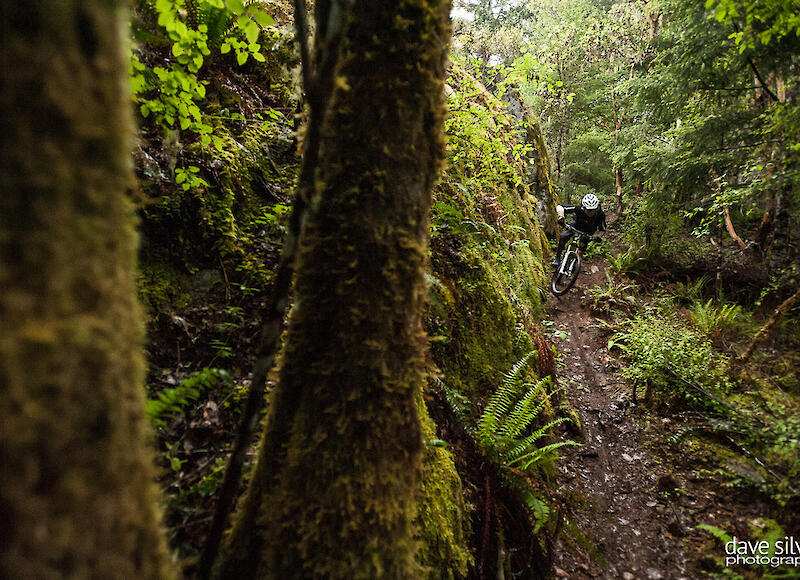 Sooke
Regardless of the season, Sooke is right for mountain biking. Nestled in the craggy and lush west coast of Vancouver Island, Sooke is warmed by a basin where fresh water from the Sooke Hills meets the Pacific Ocean. Snow rarely falls in winter. The breeze is fresh and cool off the ocean during the summer, and when the sun blazes there are lakes and pools along the Sooke River where you can soak in harmony with nature. The trails unfurl their brown banner to mountain bikers of all stripes.
Number of Trails:

34

Highest Elevation:

670 m

Trails:

easy

2

intermediate

9

difficult

20

extra difficult

3
Get Inspired
Find inspiration for your next trip to Vancouver Island.